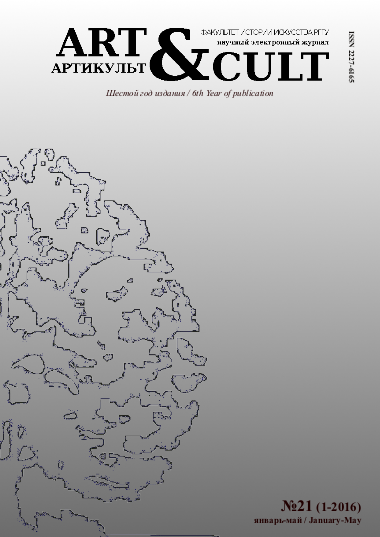 ARTICULT #21 (1-2016) January-May
SUMMARY

THEORY OF ART

TYPICAL AND ARCHETYPAL IN SOCIALIST REALISM AND SOTS-ART
UDC 7.01+7.036.1
Author: Limanskaya Lyudmila, Doctor of Sciences (Art Studies), Professor, Head of the Chair of Theory and History of Modern and Contemporary Art, Faculty of Art History, Russian State University for the Humanities (Moscow, Russia), e-mail: lydmila55@mail.ru
ORCID ID: 0000-0002-0592-3192
Summary: The article compares concepts and semiotics of meta-heroes function in social realist art and sots-art. We seek the role of ideology in the formation and functioning of cultural archetypes. When analyzing the ideological strategy of socialist realism we correlate meta-heroes of it with previous cultural archetype.
Keywords: typing, meta-hero, ideology, propaganda, communist myth, social realism, sots-art

COMMUNICATION AND CULTURE: TO NON-APOLOGICAL HISTORY OF MASS COMMUNICATION (Beginning)
UDC 130.2+7.01
Author: Hrenov Nikolai, Dr.Habil. in Philosophy, Professor, Chief Researcher at the Department of Arts and mass media of the State Institute of Art Studies (Moscow, Russia), e-mail: nihrenov@mail.ru
ORCID ID: 0000-0002-6890-7894
Summary: This paper investigates the communicative explosion of the twentieth century as the cause of new relationships of the processes of individualization and massification in the culture. We consider the cultural aspect of communication and personality as subjects of communicative processes. The question arises: whether the communication developement contributed to personal cultural capacity-building? In addressing this issue we criticize the apologetic approach to communication. It is proved that the transition from writing to the printed book was a difficult process of gains and losses.
Keywords: communicative explosion, communication, media, personality in the culture, individualization, mass culture


HISTORY OF ART
BRUEGEL'S SPRING, OR WHAT WOULD THE MISSING PAINTING OF THE "MONTHS OF THE YEAR" CYCLE HAVE LOOKED LIKE?
UDC 7.034(492)+7.071.1+75.047
Author: Demenina Ekaterina, 1st year student of the master's program "History of foreign art 15-20 centuries: contexts and interpretations" of the Faculty of Art History of the Russian State University for the Humanities (Moscow, Russia), e-mail: artbruegel@gmail.com
Summary: Nowadays there are known five paintings by Pieter Bruegel the Elder, which represent his cycle "Months of the year". However, inventories of the 16 century preserved records, according to which originally there were six paintings dedicated to twelve months. Bruegel continues the tradition of images "labours of the month" largely based on iconography, common in the Franco-Flemish miniature in the XV-XVI centuries. We prove the link of the cycle by Bruegel with illuminated books of hours of Simon Bening's workshop, analyzing iconography of the Bruegel's sketch "Spring: March, April, May" (engraving which entered the series by publisher Hieronymus Cock, devoted to the seasons) and its correlation with Bruegel's picturesque series. We aim to reveal the whole visual and semantic structure of the cycle "Months of the year" and "reconstruct" the missing link as a part of the iconographic and philosophical system of Bruegel's cycle.
Keywords: Bruegel, Pieter Bruegel the Elder, seasons, labours of the months, Franco-Flemish miniature painting, Dutch and Flemish Renaissance painting, Simon Bening, book of hours, 16 century

SURREALISTIC DOLLS IN THE CONTEMPORARY VISUAL AND MEDIA ARTS
UDC 7.037.5+7.04
Author: Volkova Anastasia, ΜΑ, Department of Cinema and Contemporary Art Studies, Faculty of Art History, Russian State University for the Humanities (Moscow, Russia), e-mail: anastasi.vo@gmail.com
Summary: Study of the use of anthropomorphic dolls and their varieties (mannequins, mechanic dolls, media dolls) in the contemporary visual and media art on the example of works by Jan Svankmajer, Cindy Sherman and Tony Oursler allows to reconstruct and rethink surrealist tradition of doll as specific representation instrument.
Keywords: surrealistic doll, uncanny, semantic collage, fetish, contemporary art and new media

MUSE: SOUND ANALYSIS OF THE VERSE
UDC 801.614
Author: Gorodetskaya Veronica, Master of Art in Music, musicology, choral conducter, music teacher of Music School in Alexandria (Virginia, USA), e-mail: veronica_gor@yahoo.com
Summary: Musical thinking in contemporary poetry is present in unequal degrees, however, beginning with Khlebnikov, early Zabolotsky and Mandelstam, it presence increases, which makes the participation of musical commentary essential to contemporary poetical analysis. The philological aspect of the theory of sound in poetry is disclosed on the basis of fundamental theoretical works of Panov and Tynianov: Panov, in his "Phonetics", states that every sound of the poetic tissue is charged both energetically and semantically; Tynyanov in "The Problems of Poetic Language" understands verse as a dynamic vertical phenomenon. Olga Sedakova's poetry equally combines the thinking of the poet and the composer, which makes the use of method of musicological analysis and established musicological terms necessary. The method of sound work was explored by poetic analysis of the fragment of the poem "The Mountain's Ode" and the poem "Mignon"; both poems are the examples of the sound work of Olga Sedakova, who builds on the deepest levels of content, by the help of sound relations.The study substantiates formative role of sound in poetry: "In poetic language, the sound is connected to meaning, not through a lexical and grammatical system, but directly." (Panov)
Keywords: Olga Sedakova, poetry, music of poetry, poetry analysis, musical commentary

ENDIMION AS IMAGE OF CHANCE: FROM DRAYTON TO INDEPENDENT RUSSIAN POETRY
UDC 75.046+82-191
Author: Markov Alexander, Dr.Habil. in philology, assistant professor, Chair of the Cinema and Contemporary Art Studies, Russian State University for the Humanities (Moscow, Russia), e-mail: markovius@gmail.com
ORCID ID: 0000-0001-6874-1073
Summary: The image of Diana and Endymion was associated with the European comprehension of time, but also includes the medical problems of dream. Comparison of the development of the image in the poem by Drayton of the Elizabethan time and in the independent Russian poetry of the late Soviet time, with the involvement of the painting material, helps to clarify how the development of this mythological image allows to specify the relationship between the "chance" and "destiny".
Keywords: mythology, poetry, chance, destiny, painting and poetry, description.

ART HISTORY, ARCHAEOLOGY, CONSERVATION SCIENCE TODAY (abstracts of the conference)
UDC 72.025+73.025+75.025
Summary: Proceedings of the 2nd interdisciplinary scientific conference in the Russian State University for the Humanities, 20-23 October 2015.
Keywords: School of Conservation at RSUH, art conservation, archaeology, art history


HISTORY AND THEORY OF CULTURE
THE FATE OF THE HERO AS THE INCARNATION OF THE TRIBAL MYTH IN THE NOVEL V.V. NABOKOV'S THE GLORY
UDC 82-312.1
Author: Pogrebnaya Jana, Doctor of sciences (philology), associate professor, Dept of Russian and foreign literature, Stavropol State Pedagogical Institute (Russia), e-mail: maknab@bk.ru
ORCID ID: 0000-0002-9974-9147
Summary: The article analyzes neo-mythological meanings in the novel The Glory by Nabokov: a miraculous origin of the hero, the birth of a new cosmogony, the search by the hero connatural purpose in the world. With diachronic decoding of mythological values, embodied in the names of ancestors of the hero, we reconstruct the role of the main character of the novel and its working as protagonist role. According to the principle of neo-mythological transposition the particular origin of the hero is program to his status, the nature and destiny. Thus, Martyn's path to Zoorland extending his dare and appointment need to be reinterpreted in neomythological aspect.
Keywords: neo-mythology, archetype, totem, myth, archetype, etymology, cosmogony

RUSSIAN LAW ABOUT RESTRICTION PERCENTAGE OF FOREIGN PARTICIPATION IN MASS-MEDIA IN CONTEXT OF INTERNATIONAL DOCUMENTS
UDC 336.774.59+341.24
Author-1: Tregubov Alexander, master of faculty of communications, media and design, NRU "Higher School of Economics" (Moscow, Russia), e-mail: tag1991@bk.ru
Author-2: Alekseev Igor, master of faculty of communications, media and design, NRU "Higher School of Economics" (Moscow, Russia), e-mail: igor1989@yandex.ru
Author-3: Belova Valeriya, master of faculty of communications, media and design, NRU "Higher School of Economics" (Moscow, Russia), e-mail: Valeria4226@mail.ru
Summary: The main goal of this article is definition of tendencies control of foreign capital in Russian media. The basic source for analysis will be law about restriction percentage of foreign participation in mass-media which launched in 2016. This document will be examined of context changes of legislation in democratic states in connection with foreign property in the media. Also in this article we try to define the reasons of differences approaches law's regulation of property in Russian media and developed countries.
Keywords: property, freedom of mass information, foreign capital, Russian legislation, state control


PSYCHOLOGY OF CULTURE AND ART
THE AGE DYNAMICS OF ANXIETY OF AVOIDANCE MEASUREMENT IN ROMANTIC RELATIONSHIPS AMONG WOMEN WITH CHILDREN
UDC 159.922.1+159.922.2
Author-1: Ulybina Elena, doctor of psychological Sciences, professor of Department of General Psychology of the Institute of Social Sciences RANEPA (Moscow, Russia), e-mail: evulbn@gmail.com
ORCID ID: 0000-0002-5398-9006
Author-2: Mitryashkina Nadezhda, head of the organizational-methodological department of the Center of psychological and educational assistance to the population "Algis" (Stavropol, Russia), e-mail: stavmnv@yandex.ru
Summary: The article is dedicated to analysis of the age dynamics of measurements of affection for women. Based on the analysis of theoretical and empirical studies, there is the hypothesis about the difference between dynamics of age changes in the national culture and the dynamics, identified among other cultures. The results of empirical studies of age differences in anxiety in relationships and intimacy avoidance by the method of "Experience of intimate relationships" by K. Brennan and P. K. Frehley in the adaptation of T.V. Kuznetsova at 198 married and unmarried women between the ages of 21-43 years, with children under the age of 6 years, are shown in the article. The results show both compliance with general cultural trends in the age dynamics of level of avoiding intimacy, and difference, consisting in rising of the level of anxiety for women who are married, starting at middle age.
Keywords: interpersonal relationships, J. Bowlby attachment theory, measuring a romantic relationship, the method of "experience intimacy" C. Brennan and Robert K. Frehley

DISTINCTIONS IN JUDGMENTS ABOUT MORALITY, IDENTITY AND TOLERANCE AMONG LAW STUDENTS
UDC 159.923.32
Author: Kolinichenko Irina, associate professor Department of the psychology of personality and professional activity of Pyatigorsk State Linguistic University (Pyatigorsk, Russia), e-mail: kolinichenkoI@yandex.ru
Summary: The article is devoted to the evaluation of the law students' judgments about morality, identity and tolerance categories, based on the educational, religious and gender criteria. At the relevant significance level, it is shown that morality violations are assessed from the group norm standpoint, typical for the members of the collectivist cultures. According to the confessional principle, we revealed differences in desirability of personal and general categories, as well as gender differences with respect to morality among young people, who believe that "there are some things for which you can retreat from the norms of morality". We haven't found the expected differences in understanding of the judgment that "a set of criminal and civil laws is the foundation of morality", as the fact that doesn't cause any disagreements among future lawyers.
Keywords: psychology of morality, identity categories, tolerance for uncertainty, students